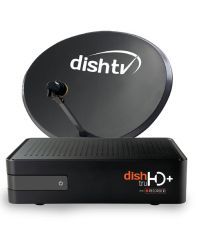 Important points to get discount DishTV HD or SD set top box Connection-All India

Offer on Snapdeal website
Deal – get 48% discount DishTV HD or SD Connection-All India (1 month Super-Family and Game-on HD with 300 Movie Points)
To buy DishTv SD/HD Connection @Snapdeal– Click Here
MRP Rs 2400 [48% OFF]
Pay Rs 1,299 only
To buy

Airtel

SD/HD Connection – Click Here
For

TataSky

SD/HD Connection – Click Here
Get 5% Cashback on HDFC Banks Debit Cards

EXCLUSIVE OFFER: FREE 1 month subscription of Dish Box Office-2 A-La-Carte packs & Lifetime warranty

50 HD Channels for Maximum Entertainment

1080i Picture Clarity

Flexibility to Choose HD Add-On

Unlimited Recording through Pen Drive

Redeem Movie Points to watch movies for free on Movie On Demand channel

Movie Points to watch movies for free on Movie On Demand (MOD) channel

PRODUCT DETAILS:Dish HD+

1.       EXCLUSIVE LIMITED PERIOD OFFER bundled with:

                    i.            FREE Dish Box Office-2 A-la-Carte pack: With this special pack, enjoy blockbuster Bollywood movies throughout the day!

                  ii.            Lifetime Warranty: Get Lifetime warranty on HD Set-Top-Box

2.   50 HD Channels: With DishTV, you'll never run out of choices. Enhance your HD TV viewing experience with 50 HD channels across various genres to suit your entertainment needs.

3.       1080i Picture Resolution & 5.1 Surround Sound: With crystal clear picture clarity, enjoy every detail in high resolution and enhance your experience. Now, you won't miss out on the minutest detail on your HD TV with 1080i Picture Resolution and 5.1 Surround Sound.

4.       Unlimited Recording: Set your own prime time by simply plugging in an external storage device (pen drive) to record and watch at any time! Use the Event Based Recording feature to record your favourite series or use Time Based Recording to set a specific time for the record feature to start.

5.       Flexibility to make your own HD pack: Post the consumption of 1 month free viewing of Super Family & Game-on HD packs, pick from pre-created HD Add-On packs which suit your entertainment needs best. Choose your pack and enter the world of maximum HD entertainment.

6.       Movie Points: Redeem your Movie Points to watch blockbuster movies showcased on our Movie on Demand (MOD) channel for FREE! Simply order a movie by sending the following SMS:

MOD <YOUR 11 DIGIT VIEWING CARD NO> <MOVIE CODE> to 57575

Installation Procedure
1
The Customer will be contacted by the seller as soon as the order is shipped. The seller would explain the installation process to the customer
2
The customer would not receive the Set Top Box as delivery from Snapdeal
3
Customer would receive invoice and a voucher which would be needed to initiate installation
4
Once the voucher and invoice is delivered, delivery and installation would be done by local authorized brand Technician who will seek prior appointment from the customer before coming for installation.