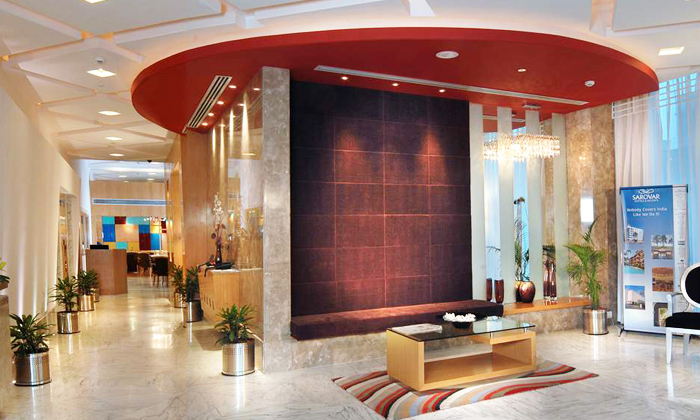 Important points to get Discount @La Italia- Park Inn, Jaipur- Bani Park
Offer on Nearbuy website
Deal – 63% Discount La Italia– Park Inn, Jaipur- Bani Park Buffet Dinner & Drinks

2 Soft Drinks + Garlic Bread (2 Pieces) + 1 Pizza / Pasta + 1 Chocolate Brownie with Ice Cream for Rs.1250 699

4 Soft Drinks + Garlic Bread (4 Pieces) + 2 Pizza + 1 Pasta + 2 Chocolate Brownie with Ice Cream for Rs.3050 1599

Valid for:

4 People

6 Soft Drinks + Garlic Bread (6 Pieces) + 3 Pizza + 2 Pasta + 3 Chocolate Brownie with Ice Cream for Rs.4700 2299

 ---
All offers are inclusive of taxes & service charges
Prior reservation recommended (Upon purchase, you will receive a voucher with the reservation number)
Voucher printout is not mandatory for purchases done on nearbuy app and web
Packing of leftover food not allowed
Cannot be clubbed with any other existing offers/promotions
Timings : 7:30 P.M to 11:00 P.M
Valid for dine-in. Not valid for takeaway / home delivery

Address–A-28/C/3, Bani Park, Sawai Jaisingh Highway, Jaipur 302001

Buffet Dinner

1 Veg Soup
2 Veg Starters
1 Non-Veg Starter
5-6 Salads
1 Raita Preparation
2 Non-Veg Main Course
4 Veg Main Course
2 Oriental Veg Preparations
2 Continental Veg Preparations
1 Rice Preparation
1 Dal Preparation
Assorted Breads
4 types of Desserts

The Park Inn, located in Bani Park, is a destination for business and leisure. Apart from its business facilities, the hotel has a choice of restaurants. The crisp yet informal ambience, elaborate table layout and impeccable service ensure that the conversations flow as smoothly as the delicacies.The atmosphere at the Riva Lounge Bar at the Park Inn is casual with flat screens mounted on the walls. It offers the choice of tall chairs and more private seating arrangements.
La Italia, beautifully designed within the premises of Park Inn Hotel is one of a kind in Jaipur. The restaurant is built on the rooftop of the hotel and features city heights, eye dazzling views and not to miss the finger licking Italian food. To increase your involvement and enjoyment in the class-apart food & beverages and ambience, it offer a wide range of drinks that compliments.