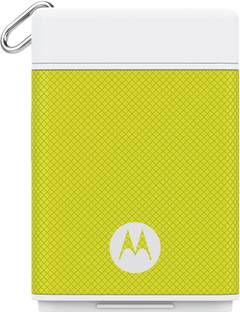 Important points to get 76% Discount Motorola P1500 Power Bank Micro 1500 mAh(Yellow) 
Offer on Flipkart website
To buy deal –  Click Here
Deal- get upto 76% Discount Motorola P1500 Power Bank Micro 1500 mAh(Yellow) @699 on flipkart
Mrp Rs.2,699
Offer Rs.699
Discount 76%

Get upto 50% discount on 2023 New Year Party - Click Here

This powerbank is compatible with Android devices that are microUSB powered.
If your power bank is running low on charge, you will get an instant notification on your smartphone via the Motorola Connect app.
This powerbank is powered by a rechargeable Lithium-Polymer battery with a capacity of 1500 mAh. It comes with an LED indicator to alter you when it's properly connected.
If you have misplaced your keys along with the power pack, don't worry. Simply use the Motorola Keylink app on your phone to find your keys. All you need to do is to listen out for the beep. The power pack also can be used to find your phone, should you misplace it.
Don't you hate it when your phone starts flashing 'low battery' when you are in the middle of watching a movie or a call? You can use this power pack to keep your phone charged when you need it most. The best part is you can even save time by charging your phone and this power pack at the same time.
Smartphone users all need a backup power source. Yours can be this sleek and compact Motorola power bank that you can carry in your pocket or attach to a key ring and use it to charge your smartphone on-the-go.

Bar Shape, Charging Time: 2 hrs, Input: 1 A, Output Power: 1 A, Power Source: USB Adapter

Special Price

Extra Rs.200 off on Motorola Power Banks

This offer is valid until stocks last or till the offer ends.
Cancellation of individual items in the offer will cancel all other items this offer is applied on.