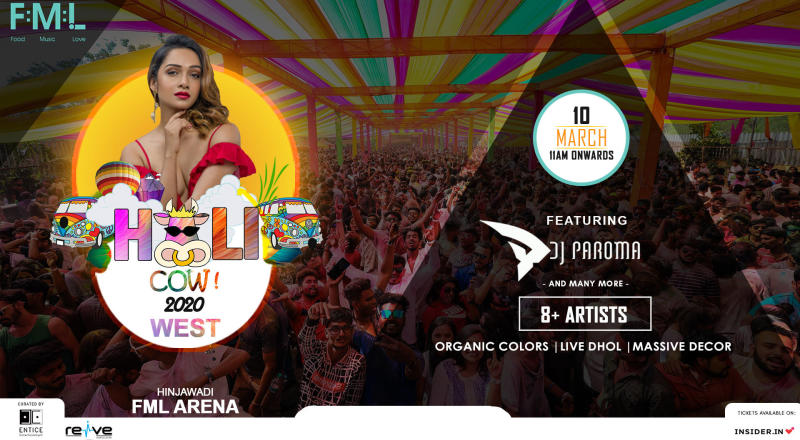 Important points to get 20% discount in Holi Festival Party 2020 in Holi Cow West(Hinjawadi) & East (Koregaon Park) Pune

Offer on Insider website
Deal – Celebrate Holi festival in Pune this year with discounted ticket price in 2 location Holi Cow West(Hinjawadi) & Holi Cow East (Koregaon Park) Pune. Get entry price as low as Rs.349 which is less than Rs.400.  Holi Cow East(Koregaon Park) ft. Dj Lemon while Holi Cow West(Hinjawadi) ft. Dj Paroma.

Holi 2020 date is 10 March 2020.

These tickets are already discounted that's why no coupon code require. Buy your tickets in early bird offer as price will go up when limited number of early bird ticket offer get sold out.

*************************************

Following coupon code will work on Insider website only.

Use coupon code : INSIDERHOLI to get 20% discount on the deal
Maximum discount of Rs.500 only
Minimum transaction value should be Rs.1000 only
This is better than cashback deal, here you will get upfront discount while in cashback deal, you will get cashback and to use those cashback, you need to buy another deal

*************************************

 

Deal available are –

General Access Single Entry For Rs.349 only

VIP Single Entry For Rs.499 only

Event date and time is March 10 2020 11AM onwards.
The coolest Holi destination of Pune is back with it's fourth edition. Presenting "Holi Cow West 2020" for a more rejuvenated Holi. We've got Dj Paroma as the headliner and many more artists in the line up. Live Dhol, Organic Colors, VIP experience-just to name a few. There's a lot more in store.DJ PAROMA BIO:DJ PAROMA is a complete clubbing soul, a night life lover, a bling freak crazy from Mumbai, India.She started off her career as a cabin crew at a tender age of 18 for a very reputed airline. That's when she flew international for a while and visited a lot of clubs around the world and came across so many different kinds of music. She, then, decided she would be taking up DJ'ing in her near future and was sure she would excel in it! The sense of beats and rhythm came straight from within, naturally!

Taking absolute pride in representing two renowned brands as their Brand Ambassador, V-Moda and UDG Gear (representing India on their worldwide website amongst the top djs of the world), featured in 3 television shows as Dj Paroma, having done several official remixes for Bollywood, Dj Paroma has definitely come a long way and climbed the ladder of success, not to forget, always being thankful to her fans for their love. Having performed in countless nightclubs, college fests and corporate gigs within India and across the world, she has gained immense popularity through her work. DJ'ing and Paroma, seem like they have a long journey together .. !!

DJ LEMON BIO:Many DJs today know their own musical style inside out and back to front. They can weave absolutely seamlessly between tracks, and technically have skills to blow you away. But what about the huge mass of music that gets left out?This made Dj lemon what he is today.Dj lemon always believed that you learn a lot about people when you listen to the songs that mean something to them. Think again, as this is something we have to admit!

Having shared console with big names in Indian Dj industry gave Dj Lemon the credit he deserved. Known for his authentic compositions of synths and beats, Dj Lemon introduced to the industry what potential electronic music has, and can have in the coming times.

Although his first love being electronic music, Dj Lemon also realised that if you like different styles of music, chances are your audience do, too. Therefore, he mastered himself in music ranging from commercial club bollywood , to deep and progressive house.

Dj Lemon is one of the few in India who boasts himself of creating his own compositions in remixing ,thus, giving an all new dimension to remixing/production.

At present, Dj Lemon not only remixes and produces electronic music thousands of people are fans of, but he also teaches other aspiring Djs the right tools to be among the best.

Please visit his creations because Dj Lemon's Music expresses which cannot be said and what is impossible to keep silent.

Address –

The FML Lounge, Hinjewadi

Next to Hotel Fortune Inn Exotica, Hinjawadi Road, Near HP Petrol Punp, Hinjawadi Village, Hinjawadi, Pimpri-Chinchwad, Maharashtra 411057

Balkrishna Lawns, Pune

92/10B, Near Yash Petroleum (BP), Mundhwa-Kharadi Road, Pune, Maharashtra 411036

Please carry a valid ID proof along with you.
No refunds on purchased ticket are possible, even in case of any rescheduling.
Security procedures, including frisking remain the right of the management.
No dangerous or potentially hazardous objects including but not limited to weapons, knives, guns, fireworks, helmets, lazer devices, bottles, musical instruments will be allowed in the venue and may be ejected with or without the owner from the venue.
The sponsors/performers/organizers are not responsible for any injury or damage occurring due to the event. Any claims regarding the same would be settled in courts in Mumbai.
People in an inebriated state may not be allowed entry.
Venue rules apply.

Get upto 50% discount on 2023 New Year Party - Click Here

Enjoy Pune Color Festival Season 3 on 10 March 2020 in Pune Holi festival Holi Cow 2020 offer deal East(Koregaon Park) ft. Dj Lemon while Holi Cow West(Hinjawadi) ft. Dj Paroma.